We all love our morning cuppa. Don't we? My morning cuppa has been a constant part of my life. As I grew, various changes took over – new location, new relationships, new people, etc. My morning cup of tea witnessed all the major changes that occurred in my life and became an integral part of the same. Here is small poetic piece that depicts various 'tea-memories' of my life.
As I Sip My Morning Cup Of Tea
As I sip my morning cup of tea
I drown in the ocean of old memories
When my day would begin with an aromatic cup
My mom would prepare with love
Patting my back, twirling my hair
She would gently caress to wake me up.
Tea was a luxury then
That I rarely treasured
As I sip my morning cup of tea
I think of those juvenile days
When we would meet for our tea-dates
In the green fields, under the bright sun
We would hold hands and dream of a future
That silently waited to turn into reality.
Tea played the cupid
To bring us together
As I sip my morning cup of tea
I recall those days of gestation
When nurturing two lives within
I would crave for a cup or a half
Soothing the nausea, douting queasiness
It's rich and pleasing fragrance
Would relieve me from the spews and barfs.
Tea turned to be a savior
Easing my days of rest
As I sip my morning cup of tea
I switch to the winds of present
Pen in one hand, china in the other
I start listing the tasks of the day.
Suddenly the baby wakes up crying
Making me rush, everything left mid-way.
The morning chores begin to engulf my lazy day
The wistful scent of my beautiful cup,
Slowly fades away!
My tea now sits arid and cold
Waiting for a warm hand to hold.
---
This blog is a part of the Chai-a-thon blog train organized by 'The Momsteins'
I would like to thank Prisha aka Mummasaurus for introducing me.
I would also recommend you to check out my fellow blogger and friend Shalu's blog The Dreamer Mum and read her wonderful post on the prompt.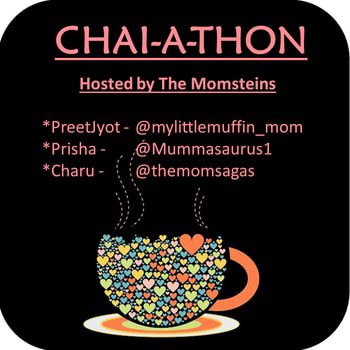 Hosted By :